Adrenaline Junkies Guide to Rotorua Attractions
The Adrenaline-Junkie's Guide to Rotorua Attractions

It's a rather exciting blog post this round. Well, rather a post about exciting things to do in Rotorua! One of the great things about going on holiday for even just a short weekend away is that most people tend to step out of their comfort zone and try new things. Here in Rotorua, you'll find many tourist attractions that are sure to get the heart pumping.

The Best Night Activities in Rotorua

Let's start with some of the thrilling night activities Rotorua has to offer. Redwood Treewalk Night Lights is one of New Zealand's top tourism experiences, featuring 30 unique lanterns that illuminate the forest in a magical, enchanting way. Sounds serene, doesn't it?
Walking across floating suspension bridges and platforms 9-20 metres above the forest floor will surely awaken the adventurer within. Redwood Treewalk Night Lights is perfect for families looking for things to do in Rotorua at night. The Rotorua Luge is always a fun activity. And now you can luge into the evening on the famous Night Luge to make the experience even more fun! Enjoy the thrill of riding the Luge under the stars.
Their new colourful disco lights will light the way as you twist and turn your way down one of the exciting Luge tracks. Jump into a Luge and race off with friends or family to work out just who is the king of the mountain. The Luge is great for any age, and small children (provided they can walk unassisted) can ride with adults. You can also Zipline or push yourself to ride the 50-meter Sky Swing or do it all with an affordable combo package.

Experience the Famous Rotorua Zorb and Zipline

The Zorb in Rotorua offers four different ball rolling tracks: the world's longest zig-zag Sidewinder Track, the smooth 'n' fast double Straight Track, MEGA Track—the longest, fastest, and steepest track in all the land, and Big Air—their newest thrill ride.Ride with or without water; the choice is yours! Superman dive into a giant inflatable ball and roll down Mt Ngongotaha, the fun will have you laughing uncontrollably.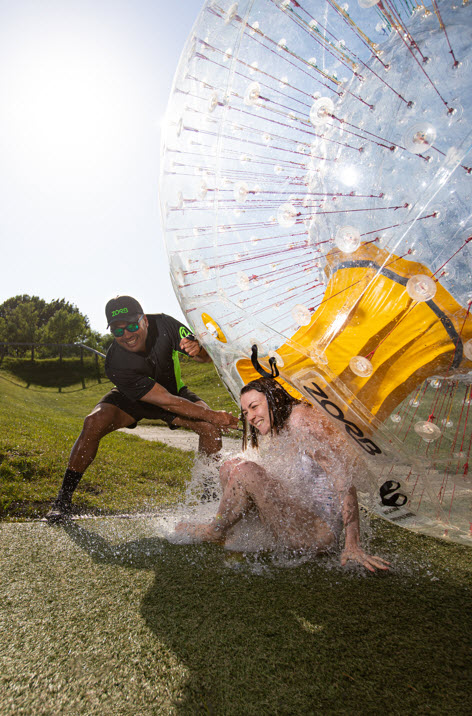 Discover FOUR different ball rolling tracks
Then there's Zipline Rotorua with Rotorua Canopy Tours. The knowledgeable and experienced Kiwi guides will take you on a journey through prehistoric native forest.They will keep you safe, make you laugh, and bring the forest to life. Explore the canopy as you fly on a network of ziplines, swing bridges, cliff-walks, and treetop platforms.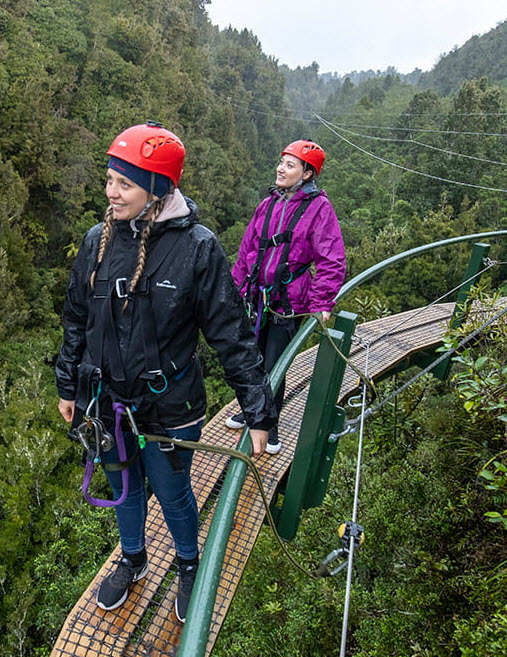 The BEST Nature & Adventure Experience IN THE WORLD
An excellent entry point to the "inner core network" that is suitable for families and beginners is at the Redwoods I-Site & Visitor Information Centre on Long Mile Road.
You can pick up a trails map and enjoy the network of wide, sweeping beginners' tracks with gentle climbs and descents. In this area, it is easy to move onto more challenging tracks into the wider Whakarewarewa forest as your confidence and ability increases.
Enjoy the Thrill of Speed: Go White-Water Rafting and Mountain Biking
The Kaitiaki Adventures Waterfall Experience will see you paddling through the pristine heart of the best rafting region in New Zealand: Okere, Rotorua. Enjoy a thrilling mix of dropping down three waterfalls, pushing through 14 rushing rapids, and paddling through calm waters of recovery where you can look back in awe at what you have achieved.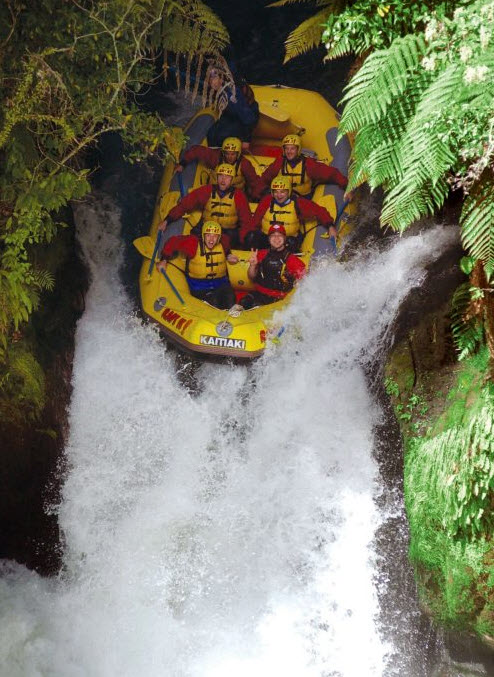 1 of 12 Winners in the prestigious Qualmark New Zealand 100% Pure NZ Experience Awards.
Don't miss Velocity Valley Adrenaline Park, "Where Speed, Adrenaline & Fear Collide." With a jet sprint, bungy, wind tunnel skydives, and more, this is NZ's best adventure activities all in one location. At Velocity Valley, there is something for everyone, from novice to seasoned pro. Pedal, free fall, launch, propel, swoop, or splash; they make fast fun for everyone! Bring your video memories home on a data stick to enjoy the memories for years to come. If the thrill of mountain biking is your thing, try Skyline Gravity Park.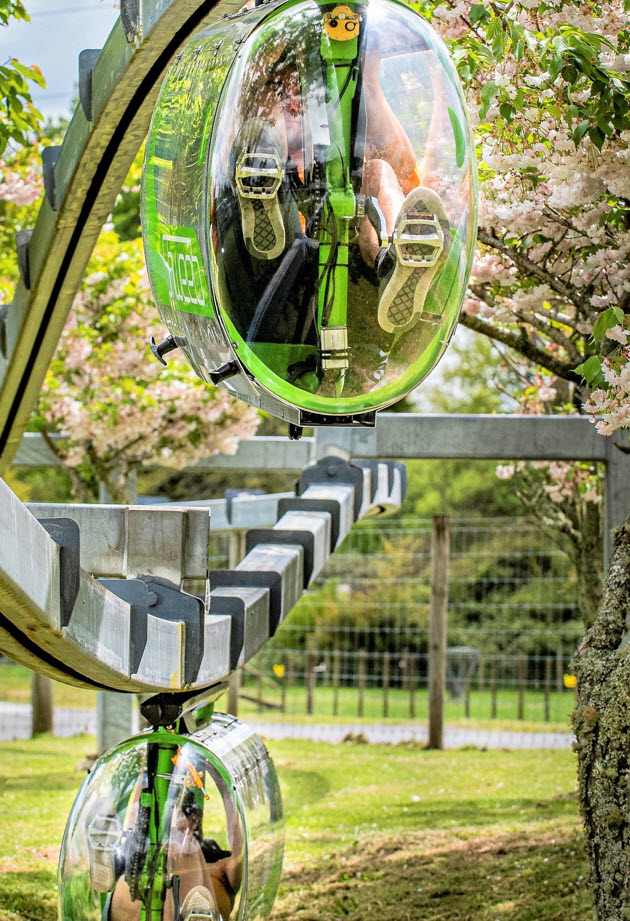 Shweeb Adventure at Velocity Valley
The gondola accessed MTB park and home of the internationally renowned mountain bike festival, Crankworx is here just waiting with a 12 km trail network for you to conquer. Alternately, kick up some dirt on one of the oldest mountain bike networks in the country, with master crafted trails, unbeatable riding surfaces, varying topography, and fantastic scenery.
Rotorua is renowned among mountain bikers as a premier riding destination. With around 130km of continually evolving trails, there is something to cater to all levels of riders, from beginners and family groups to experts looking for extreme action.
Rotorua Attractions Deals on Heart-Pumping Activities Having fun in Rotorua doesn't have to be expensive. Rotorua Attractions has awesome deals for white-water rafting in Rotorua, as well as a range of other deals on activities in the region. Visit our website to find more heart-pumping activities at great prices. I hope you have enjoyed this edition of The Sulphur Times. Thank you for reading and supporting Rotorua Tourist Attractions and we will see you when you get here.