Night Activities in Rotorua
Embrace the Dark: Great Night Activities in Rotorua

If you think there's a lot to do during the day here in Rotorua, you'll be amazed by Rotorua's evening activities. From the night activities in Rotorua to the cheap night markets, this place really comes alive when the sun goes down.

Cheap Places to Eat in Rotorua at Night

If you're looking for great places to eat in Rotorua, you'll be spoilt for choice. Rotorua's night markets have all forms of street food, and us locals head down there on a Thursday night to support our friendly local vendors and to pick up some tasty treats. The kids love the entertainment and the whole vibe is welcoming and community based.
A little further down the road is the famous Eat Street dining precinct where you can find some awesome Rotorua dining deals. The smells, sounds, and atmosphere of this area are festive, which the kids will enjoy. The alfresco dining arrangements of the strip allow the sound of happy groups and laughter to underline the thriving atmosphere of good times with friends.
On your way home from one of Rotorua's restaurants, why not book a private pool at a Polynesian spa for 30 mins? Bathing in Rotorua's hot pools is one of the most relaxing and enjoyable things after a busy day. They provide the towel too, so even if it's a spur of the moment decision, I bet you will sleep like a baby that night. Hells Gate Rotorua also offers a unique bathing experience between October & March at their "Twilight Mud Spa"; a relaxing and magical escape overlooking New Zealand's most active geothermal park.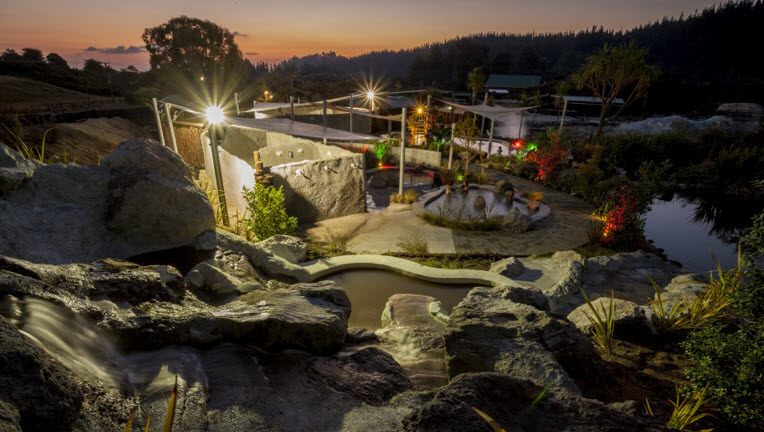 Experience Maori Culture at Rotorua's Maori Village

Rotorua is one New Zealand's most culturally rich destinations. The region offers plenty of opportunities for visitors to learn more about Maori culture. Te Puia is a well-known Rotorua Maori village that offers an awesome night-time experience, 'Geyser By Night.'
The Te Puia Light Trails is now open, and reveals for the first time the geothermal valley under night skies, providing a multi-sensory experience in an interactive journey guided by light.

Rotorua's Guided Tours and Evening Outdoor Activities

Redwoods Treewalk offer their Redwoods Nightlights evening treetop experience. Bask in the glow of magically illuminated 118-year-old Redwood trees with the Redwoods Treewalk Rotorua 'Redwoods Nightlights' experience.
The forest comes to life at night, and as you walk high above the forest floor you are transported through a captivating world of colour and light. The night luge at Skyline Rotorua is always a popular option for thrill seekers too. Experience the fast-paced thrill of the Rotorua Night Luge and navigate the twists and turns under colourful lights while you ride down Mount Ngongotaha.
Rotorua's paddle boarding and kayaking guided tours are also becoming quite popular. This fun Rotorua guided tour takes you along the shoreline, where you'll soak in the sunset before being immersed into the wonder of glow worm caves. How about some star gazing?
The Rotorua suburb of Ngongotaha is said to be the best place for stargazing on the North Island, so head there on a clear night to see the beauty of the Southern Hemisphere's night sky. Alternatively, Skyline Rotorua offers stargazing tours with high-powered telescopes to see the likes of nebulas, planets, the Milky Way, and even other galaxies.

Get in Touch with Rotorua Tourist Attractions for More Information

What an amazing place Rotorua is! If you are planning to visit Rotorua with the family, make sure to browse through all our evening activity deals so that you can make the most of your stay.
Don't hesitate to contact us if you have any questions about staying in Rotorua. Thanks for reading and supporting Rotorua Tourist Attractions. We hope to see you soon.