Rotorua Experiences and Events
Mid-Year Fun: Rotorua Experiences and Events
Winter is one of the best times of the year to stay in Rotorua. The region is always buzzing with awesome winter activities, experiences, and events mid-year. From the relaxing geothermal hot-pools to the scenic bike trails, there's something for everyone in this unique town.
Take a Trip to Whakapapa for a Skiing Adventure
Kiwis love skiing, and Rotorua is perfectly placed for Kiwis to break up their trip and find good thermally heated accommodation on the way to or from a skiing weekend. Most Rotorua motels have individual in-room hot tubs and a Polynesian spa, which is a quintessential Kiwi experience when travelling the North Island. Secret Spot Spas is tranquil, soul-warming, and not far off the main travel route as one would pass through Rotorua, I might add. Alternately, maybe try a winter soup in one of Rotorua's restaurants.
Whakapapa is located on Mt Ruapehu's north-western slopes and is less than two and a half hours from Rotorua. When you're about halfway home, with the kids exhausted by Happy Valley (the country's premier beginner facility), stop over and enjoy our region. You can do the same thing with Tūroa. Tūroa sits on the southwestern slopes of Mt Ruapehu and is about three hours from Rotorua, so it's the perfect distance to time a well-earned break from travelling.
When it snows in Rotorua…
One winter, we actually had snow in Rotorua! It was rather short-lived, though I did video the event and uploaded it to Facebook where I was corrected and informed it was only sleet. There was another time we had snow in Rotorua, but this was special, imported snow.
You see, we had some people come and stay with us that had been down to Turangi to pick up their newly purchased boat. It was an extra cold winter and had been snowing, so the boat cockpit was filled with snow. When they pulled up back in Rotorua, we all had fun throwing it at each other and building a snowman on the grass verge for all to admire. It was great fun.
They only stayed one night, saying they just wanted to spend the stopover soaking in our thermally heated spa pool to warm up and mountain bike the Rotorua tracks.
Experience the Region's Unique Geothermal Energy
Of course, Rotorua is well known for its thermal hot pools and geothermal parks. Ride to Waimangu Volcanic Valley and Waikite Valley Thermal Pools on the new Whakarewarewa Forest Loop and Te Ara Ahi.
Add a geothermal walk at Waimangu Volcanic Valley or a hot pool soak at Waikite Valley Thermal Pools, or both! Enjoy Scheduled shuttle transport for you and your bike back to town. Winter is an awesome time of year to showcase Rotorua's unique geothermal energy.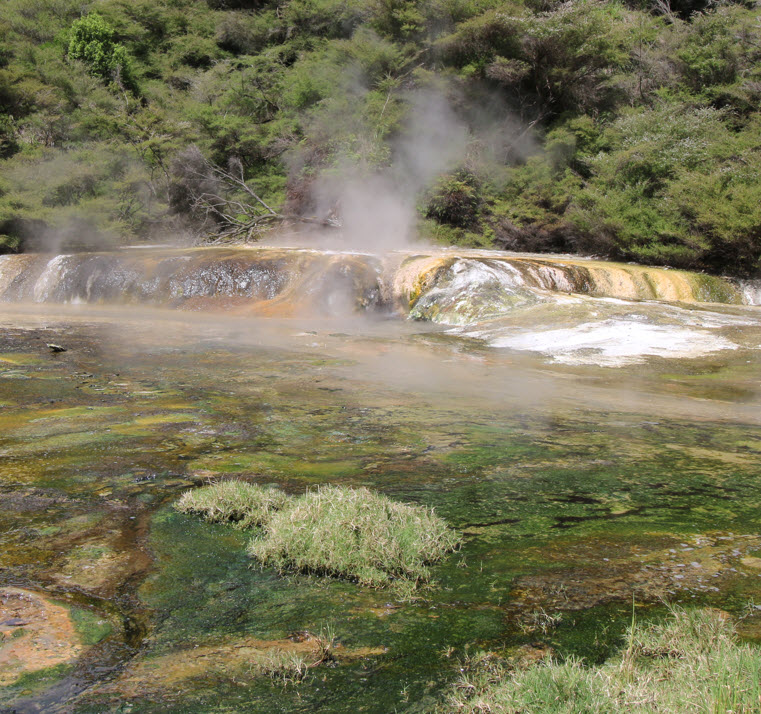 Waimangu Thermal Valley Walk
Enjoy Rotorua's Mountain Bike Trails and Night Rides
Rotorua's mountain bike tracks and trails are some of the best in New Zealand. If you are keen to ride at night but need a bit of guidance to get you started, try Night Riding for Beginners. These rides start at the Tree Walk on Longmile Road and do a lap or two of the lovely Mokopuna Trail. Dress warm, bring your hi-vis, and ensure you have some riding lights.
These rides will be a lot of fun and will finish off with a coffee or cider at the Good Eastern Taphouse. With trail run/walk and mountain bike options, kids' activities, food, and live music, you can celebrate the amazing vibes in Rotorua's Whakarewarewa Forest.
Popular Rotorua Events in Winter
There are always fun events happening in Rotorua, especially mid-year. Get out of the house and into the forest this winter for the exciting Winter Forest Festival or come and celebrate Matariki with us! Over nine days, Te Aka Mauri will run events that focus on Matariki, particularly the stars and their deeper meaning for Māori. If you're keen on DIY or home décor, you won't want to miss
The Rotorua Home & Lifestyle Show. This popular family-friendly event is held every year in July. Take in a show or attend Costumiers Fantasy Masquerade Ball weekend or Harcourts Dancing for Hospice.
There's also the Wonderland Glow Show that all the local kids are looking forward to. Then, we get into the season of Tough Guy & Gal Challenges and, as Spring begins, the Blue Lake 24 Hour Challenge for runners. That's followed by the start of the Rotorua Running Festival, but that is a whole other topic to blog about another day in our very own Sulphur Times.
Secure Awesome Deals on Rotorua Motels
With many adventurers heading to the ski fields of New Zealand to enjoy the snow, we welcome many into our warm accommodation providers properties. There are excellent Rotorua deals on accommodation mid-year, and it's usually easy finding somewhere great to stay. We have compiled a list of quality accommodation providers.
View our local insider recommendations on our website to find great places to stay in Rotorua. Thanks for reading and supporting Rotorua Tourist Attractions. We shall see you when you get here.