The Ultimate Guide to Travelling with Children
Rotorua Hotel Deals and Activities: The Ultimate Guide to Travelling with Children

We've all heard it before. We all grew up chanting it to our parents: "Are we there yet?" When travelling to Rotorua with my family, I liked to fall asleep a little bit into the journey and sleep through the unruliness of my lesser behaved 4 siblings.
There's nothing better than getting to wake up and feel like you have just teleported to a much-awaited holiday. Ha! Ahh, the Kiwi family holiday. We would come to Rotorua after spending Christmas with Nana in Hamilton and find ourselves in the government gardens cutting ham off the bone for a picnic of fresh sandwiches.
We were always on a budget as many families are these days. Planning a trip to Rotorua with the kids? We all know travelling with the family can be expensive. In this edition of our Sulphur Times blog, let's try to find some the most cost-effective Rotorua activities for families, as well as some awesome hotel deals.

Family-Friendly Activities in Rotorua

There are so many fun family-friend activities in Rotorua, it's hard to know where to start! From rainy-day activities to outdoor adventures, there's always something to do that the whole family can enjoy.
Some of our most successful outings with our high energy little 3-year-old have been to the Meow Cat Café. She just loves it and gets very excited days before to see the fluffy cats or maybe it's the gelato!.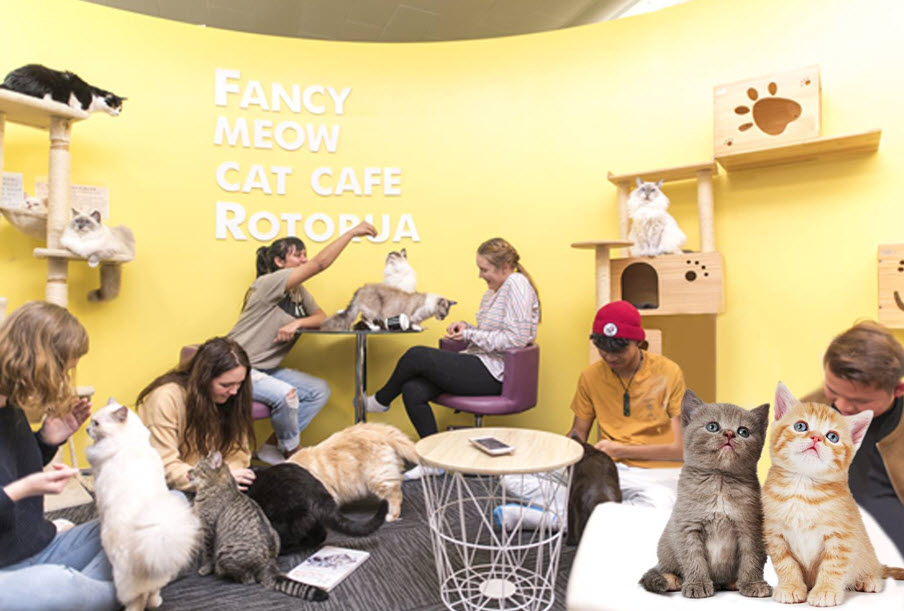 Fancy Meow Cat Cafe
Our older kids love the 3D Art gallery in Rotorua and we always have a great laugh and happy day out when we visit there. Getting locked in a kitchen cool room at Rotofobia and having to work together to escape the killer chefs "One hell of a kitchen" is a lot of family fun and a very exciting family challenge. The Rotorua Skyline is an awesome family adventure destination for kids of all ages.
The little ones can safely luge with you in the front seat whilst you race down the mountain. There is also zip lining, the crazy "Sky swing" for your little dare devils, and heaps of yummy breakfast & lunch options – including an extensive jellybean shop with some interesting flavours. If you're looking for something fun to do at night-time, then the night luge is for you! The night luge is one of the most popular Rotorua evening activities and is a great way to end the day.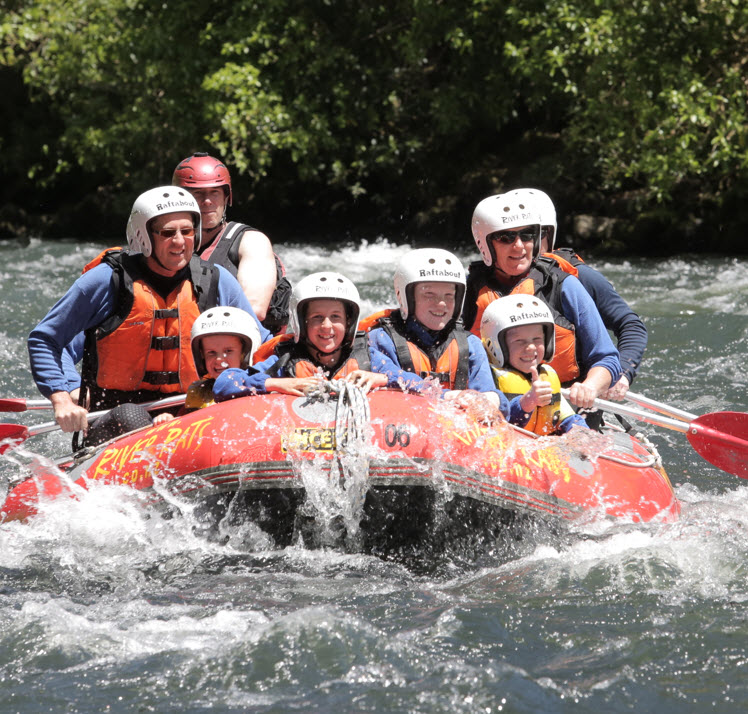 Family Fun on the river

Rotorua Guided Tours for Kids

Rotorua's guided tours are a great way to see and experience the region. There is a tonne of guided tours in Rotorua that are great for families. Paradise Valley Springs is a serene family activity where you can experience nature, get up close to native birds, feed rainbow trout, experience beautiful walkways through native trees. In the afternoon, you can watch the pride of African Lions get fed their lunch, which is always is exciting.
River Rats Rafting is another fun guided tour that the kids will love and is one of Rotorua's most popular activities. This leisurely tour takes you on a grade 2 scenic river trip with a delicious picnic style lunch provided. The tour is most suitable for children over 5.
The Best Places to Stay in Rotorua for Families

Accommodation wise, there are many great Rotorua hotel deals available for families with kids. Kids can stay for free at Rotorua accommodation when accompanied by at-least 1 paying adult and can also dine for free at breakfast. At Rotorua Attractions, we have a voucher for a family buffet dinner at Novotel's Atlas Restaurant for 2 adults and 2 children, for only $110.00! With the rise of Airbnb and the holiday home rental sector, there are loads of great Rotorua accommodation deals that are suitable for larger families.
You can use the "Locals Insider Accommodation Recommendations" section of our website to help negotiate Rotorua accommodation offerings and find the best places to stay in Rotorua. Here you'll discover awesome Motel and Rotorua hotel deals, as well as some private holiday home rentals.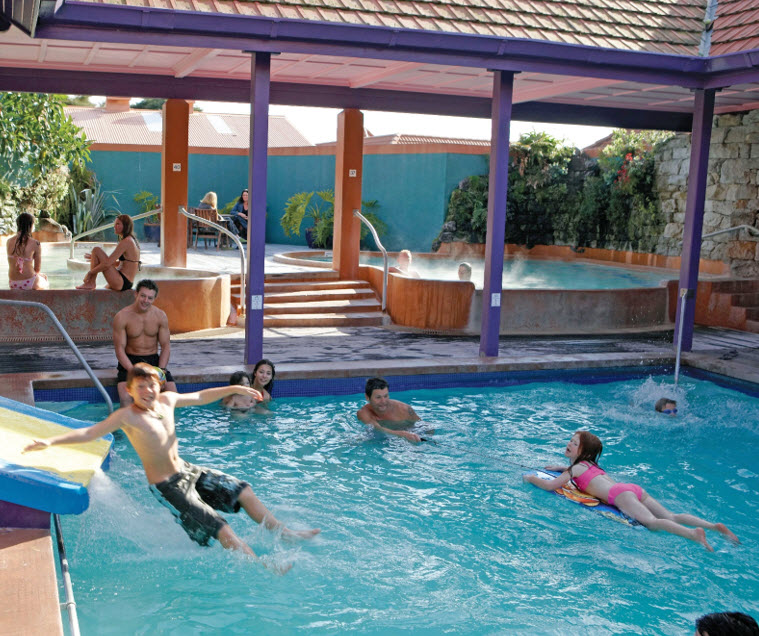 Family Fun at the Polynesian Spa
Find Rotorua Hotel Deals and Discounted Attractions

Doing a Rotorua day trip is a great way to save money on Rotorua accommodation. Rotorua attractions has plenty of free Rotorua activities that are perfect for families, including great walks. There are so many fun things to in Rotorua, so get planning and we'll see you when you get here. Thanks for reading and supporting Rotorua Tourist attractions. If you have any questions about our Rotorua hotel deals and free activities, feel free to contact us.