Ultimate Guide to Rotoruas Best Hiking Spots
Our Ultimate Guide to Rotorua's Best Hiking Spots
We grow up in New Zealand skipping across native forest creeks, smelling the damp undergrowth beneath the forest canopy. We look up from our small stature to the underside of a silver fern whilst enjoying the birdsong of our native birds and the familiar singing of a resident Tui of the area announcing its presence. Being young and often encouraged to reluctantly tramp bush walks in Rotorua may not have seemed like much fun at the time. But in fact, we were experiencing a lifestyle and given building blocks that would shape our identity, put us in touch with where we live, and gain the ability to enjoy the resources we have right under our feet.
If you're visiting the gorgeous Rotorua region, it's the perfect chance for you to do the same. Rotorua is renowned for its hiking trails and bush walks, with the region sporting many clubs and organisations to manage and promote these activities. From the most awesome geothermal walk Rotorua has to offer at Waimangu Valley, to the view from Rainbow Mountain (one of the more rewarding ones), Rotorua has it all. With Haumurana on one side of the lake and Sulphur point on the other, our geothermal wonderland offers an abundance of walking and hiking experiences for all levels of fitness.
I once asked a hiking buddy on one of our walks near Rotorua why he enjoyed hiking and bush walking in NZ. He told me that it brought back memories of quintessential New Zealand; it made him feel at home. It brought back feelings from his childhood, and he felt most at peace in the bush. Back in the day, it was actually part of the school curriculum to do a thermal walk Rotorua-style at Waiotapu or a day trip to the buried village. So really, every time he stepped out onto a trail, he was taking a little step back into his childhood.
That's why we do these things, isn't it? To take a step back in time and see Aotearoa as it was hundreds of years ago. To that end, here are a few of my favourite walks Rotorua has to offer.
The Winding Whakarewarewa Walks
The starting point for many Rotorua walking tracks and hiking adventures is the Redwood forest's i-SITE information centre. It supplies maps to various walks around Rotorua, and you can find it right next to the Redwood Treewalk down Long Mile Road in Whakarewarewa.
If it's a Rotorua forest walk you are looking for, choose from six different walking tracks winding their way through the Rotorua Redwoods. You can find a walk for every level, so whether you're a beginner leisure walker or an experienced hiker, there's a gorgeous trail for you. These walks include:
• Redwood Memorial Grove Track – 2km, 30 minutes
• Waitawa Walk – 3.4 km, 1 hour
• Quarry Lookout Track – 4.8km, 1.5 hours
• Tokorangi Pa Track, 11.5km, 3.5 hours
• Pohaturoa Track – 7.5km, 2 hours
• Whakarewarewa Circuit Tramping Route – 34km, 8+ hours
That last one is of the more popular advanced Rotorua hikes; our resident 34-kilometre Whakarewarewa Circuit. Set aside a full day to traverse the Whakarewarewa Forest, experience some of the best views in the region, and stand on the shores of our gorgeous district's lakes.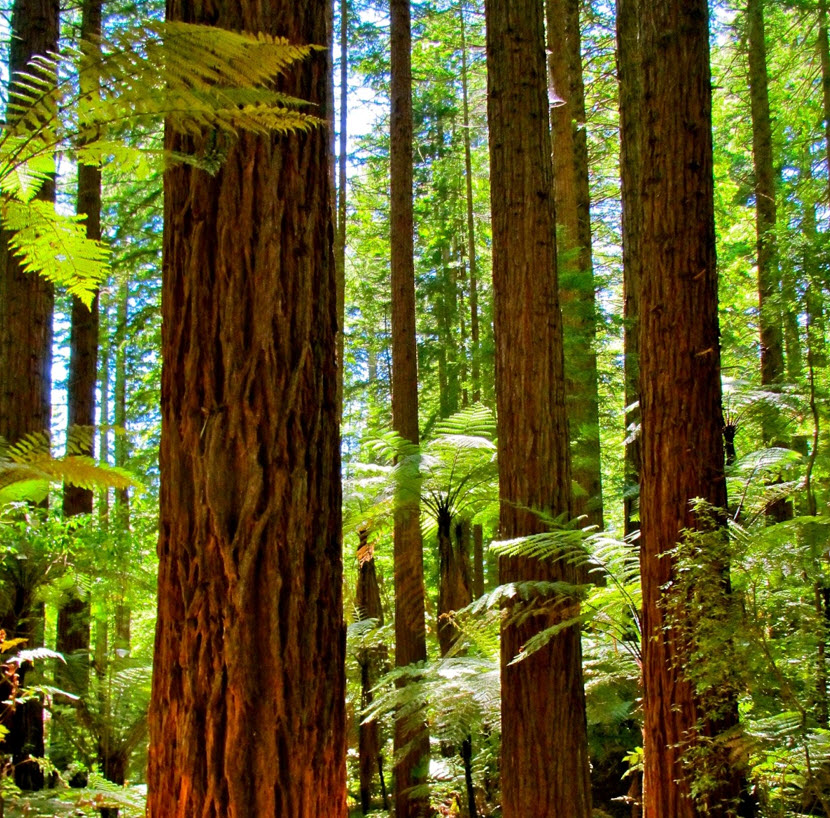 The Blue and Green Lakes
Only a short drive from The Redwoods are 'The Blue and Green Lakes', Rotorua's shining gems. The Blue Lake (Lake Tikitapu) is a very popular Rotorua lake walk thanks to its locale, situated closest to the city and featuring clear, clean, crystal blue water. It's highly popular with boaters, swimmers, and water skiers. Children will love the waterslide situated on the pumice sand beach while swimmers will enjoy the refreshing, clear water of the blue lake.
There is an easy walking track which encircles the lake with incredible views towards the Green Lake (Lake Rotokākahi). Speaking of which, Lake Rotokakahi is a lovely spot for a picnic! There are delightful sandy beaches and grassed areas spanning the area, with barbeques and rubbish bins provided.
While swimming is not permitted in the Green Lake, you can drive a path between the two jewels, pull over, and experience a magnificent viewpoint. Gaze out at both lakes from a grassy knoll and take an awesome panoramic photo!
Lake Ōkāreka Bush Walk
Last weekend, my family and I went for a drive up to Lake Ōkāreka. Basically a 10-minute drive from Rotorua - past the Redwoods and up the hill - Lake Ōkāreka is a part of a cluster of four of our 18 lakes.
To reach the walkway, make your way to the end of Acacia Road where a lovely boardwalk travels around the edge of the lake. Here, there is an abundance of birdlife, especially early in the morning when the sun has barely risen. With campgrounds bordering the lake's edge and glow worm tracks right around the corner, heading to this part of the region is an awesome family activity.
Tarawera Trail Walk
The Tarawera Trail is one of the most spectacular tracks in the district. The track starts at the Te Wairoa car park, off Tarawera Road and just before the Buried village. Follow the lake-side trail through Katukutuku Bay and, five kilometres into the trail, stop at Hawaiki Bay. Here, you'll enjoy lake access and a picnic area, complete with toilet facilities and the cherished opportunity to go for a dip during the summer months.
The overall walk is about 15km in total, taking between four and six hours one-way (depending on your fitness level). Conquer a few up and down hills to end up at the Hot Water Beach, a unique and well-known collection of man made Rotorua thermal pools sitting on the lake's edge. You can catch the water taxi back to "The Landing", which runs at $25.00 one way for adults. Be prepared; it's an awesome day, but a long one.
Hamurana Springs Walk
Finally, we have one of my absolute favourites, mainly because it is short and sweet. (Let's just say I have been accused at times of driving to the letterbox). This gorgeous trail is the Hamurana Springs Walk. On the eastern side of Lake Rotorua spans a majestic and relatively unknown reserve dotted with hidden natural springs and towering Redwood Trees. The icy waters are crystal clear with hues of turquoise, greens, and blues, all the ingredients for a beautiful afternoon stroll.
Thanks for reading and supporting Rotorua Tourist Attractions.
We'll see you when you get here!
Find everything you need to love Rotorua at its finest.
Rotorua Tourist Attractions is your one-stop-shop for Rotorua deals and vouchers. If you're visiting Aotearoa's resident geothermal wonderland, browse through our site to find the best deals on accommodation, dining, experiences, and more!