10 Things to do in Rotorua with Family
Top 10 Things to Do in Rotorua with Your Family

Welcome to this month's blog. 'Top 10 Things to do with your family in Rotorua.' It's actually pretty easy to list out our 10 favourite things—so easy in fact that I'm going to make it 11! I'll also provide some awesome Rotorua activities deals and cheap accommodation options, so let's go!

1. Rotorua Canopy Tours
Ranked as the number one outdoor experience in NZ by Trip Advisor, this adventure activity is one with both brain and heart. Get above the trees, learn about the past and become part of the future. This journey with Rotorua Canopy Tours takes you deeper into untouched native forest and will show you New Zealand like it once was. Not for the faint hearted! This Rotorua ziplining experience is an awesome activity with amazing kiwi guides that keep you safe, make you laugh, and lead your small group on a personal and unforgettable adventure of a lifetime

2. Polynesian Spa
The Polynesian Spa is a large freshwater chlorinated swimming pool that's great for families. Set at 33֯ C, there is a toddler's section, a deeper section for adults, and a small hydro slide for the kids to enjoy. There is always a lifeguard present to keep the whole family safe. There are also two Rachel Spring alkaline mineral hot pools at 37֯ C and 40֯ C.

3. River Rats Rafting
River Rats Rafting is one of the most popular things to do in Rotorua. Rotorua's Kaituna is the world's highest commercially rafted waterfall at an almighty seven meters. There's plenty of time to build up anticipation and practice your newly acquired skills in the rapids, and two smaller waterfalls before the big drop. The Kaituna Waterfall Experience. Paddle forth and conquer!

4. Velocity Valley Swoop
Do you have what it takes to nose-dive headfirst to the ground from 40 metres high? The Velocity Valley Swoop is the only way to find out—a superhuman swing that puts the power of adrenaline into your own hands. Suspended from the height of a 11-storey building (40 metres / 141 feet) and strapped into a body bag, your fate is in your hands. Release the cord to face your biggest fears and swoop from 0 to 130kmph in 1 second. Headfirst into full velocity. We dare you to keep your eyes wide open as you inch your way to the top and get ready to release the ripcord for a cliffhanging 40 metre drop. No guts no glory!

5. 3D Trick Art Gallery
3D trick art is the only 3D Art Gallery in New Zealand. This immersive exhibit of mind-blowing "trick art" is located right in the heart of all the action in Rotorua and is the first of its kind in New Zealand. Unlike your usual art museum, you can touch and interact with dozens of 3D artworks, immersing yourself in the fun. If you are looking for something unique to do with the kids and introduce them to some spectacular art, be sure to check this out. Make sure you take your phones with you as you will need to capture a lifetime supply of funny profile pictures, featuring you as the star!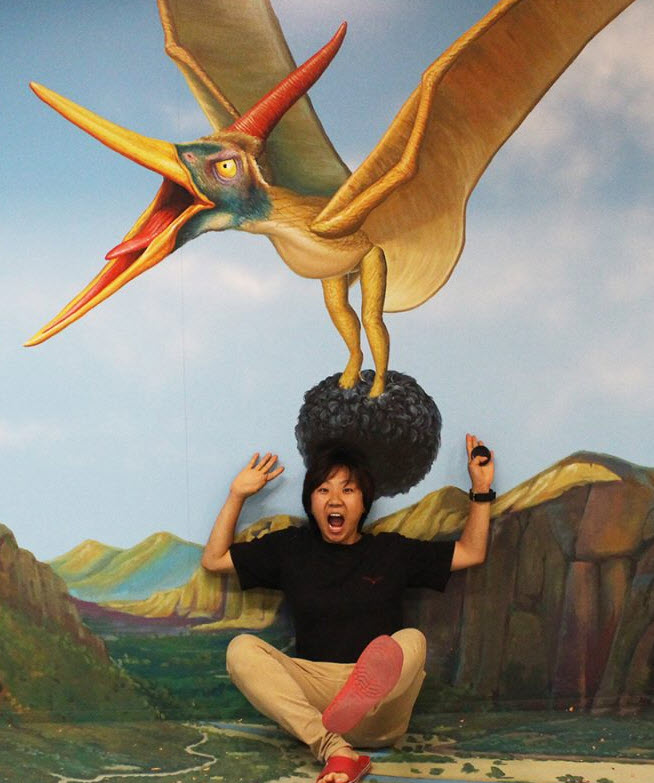 The kids love going to 3D Trick Art Gallery
6. The Secret Spot
The Secret Spot is a magical hot tub development with unique cafe and bar facilities. Set in a true, native New Zealand oasis hidden from sight. Located on the edge of the Whakarewarewa forest, 12 hand-crafted, 6-seater cedar hot tubs dot the edge of the Purenga stream. Each one filled with pure, spring water from their secret spring source, then heated to a perfectly relaxing 39deg.

7. The Zorb
Superman dive into a giant inflatable ball and roll down Mt Ngongotaha with ZORB, where the fun will have you laughing uncontrollably. Discover FOUR different ball rolling tracks—the world's longest zig-zag Sidewinder Track, the smooth 'n' fast double Straight Track, MEGA Track (the longest, fastest, and steepest track in all the land), and the newest track; Big Air, their latest thrill ride. Ride with water or without water, the choice is yours! Rotorua is the ONLY location in New Zealand where you can experience this amazingly fun and bizarre bucket list activity.

8. Hell's Gate Mud Bath & Spa
Rotorua's mud pools and unique geothermal activity have become world-famous. Hell's Gate is New Zealand's only geothermal mud spa and most active thermal reserve. Steeped in Maori myth and legend, this place is a truly unique experience. Hell's Gate mud spa is an iconic Rotorua experience. The healing properties of the geothermal mud and sulphur mineral water have been used by local Maori for over 800 years. Open and clean your skin by lathering it in the unique Rotorua mud pools, before exfoliating and cleansing with a soak in the sulphur spa.

9. Waimangu Volcanic Valley
At Waimangu Volcanic Valley, you can explore the world's youngest geothermal valley at your own pace, with walking trails for all abilities. Walks vary in length from 1.5km to 4.5km, covering a range of geothermal activity, hot springs, volcanic craters, nature, and wildlife. The trails ultimately lead you down to the lake, where you'll enjoy relaxing 45-minute cruise around the tranquil waters of Lake Rotomahana. Highlights of the cruise include stunning geothermal activity only accessible by boat, as well as rare native birdlife. You can also listen to the historic stories of the lake, the Pink and White Terraces and the Mount Tarawera eruption from the onboard commentary. Places on the boat cruise are limited, so advance booking is recommended to avoid disappointment. Make sure to use the free Waimangu App to discover hidden content and rediscover the Pink & White Terraces.

10. Tarawera Walk
MT TARAWERA VOLCANIC CRATER HIKE FULLY GUIDED (REDEEMABLE AT KAITIAKI ADVENTURES) Infamous for its eruption on June 10th, 1886, Mt Tarawera created the world's youngest geothermal valley of Waimangu, at the same destroying the legendary Pink and White Terraces. This fully guided walking experience encompasses the unique landscape and history of the area. With unmatched scenic vistas and 360 panoramic views this experience is ideal for all ages and includes an optional run in to the heart of the volcanic crater. This activity includes transportation to and from accommodation.


Experience one of New Zealands great walks to the volcanic crater of Mt Tarawera
11. Rotorua Duck Tours
Rotorua Duck Tours is the first (and still only) company in New Zealand to provide the unique and exciting opportunity to explore a special part of New Zealand in an authentic amphibious WWII landing craft. The Duck is a truly magnificent vehicle able to travel on land and water. Come and experience Rotorua and its lakes from a totally unique perspective! This tour is broken into two parts which includes a tour through the city, showing off it's amazing gardens, iconic buildings, and geothermal areas, before heading out for Splashdown into two of Rotorua's most stunning lakes, whilst enjoying magnificent views of Mt Tarawera and lush native forests.


Are your Kids quackers! Then this is the tour for you.
Free Things to Do in Rotorua
Rotorua is a region of great natural beauty, so there are loads of free things to do outdoors from the trails at the Redwood Forest, to the walks along at the edge of Lake Okareka Boardwalk, there many beautiful places to discover on foot. Swimming at Kerosene Creek or enjoying Flora & Fauna at The Rotorua Government Gardens.

Discover Rotorua Deals at Our Website

Find cheap places to eat in Rotorua along with awesome activities deals at Rotorua Attractions. Plus, discover affordable accommodation throughout the region. Visit our website today for more travel ideas and start planning your trip today! If you have any questions about our Rotorua deals, don't hesitate to get in touch. Thank you for supporting Rotorua Tourist Attractions, and we will see you when you get here!